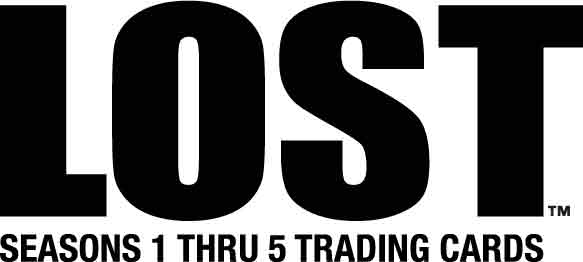 On January 27, 2010 Rittenhouse Archives will release their first trading card set dedicated to ABC's smash hit TV series LOST.LOST: Seasons 1 thru 5 will have 108-Card Base Set, featuring 1 card for each episode from all 5 seasons of LOST, plus lenticularLOST In Motion cards and other exciting bonus cards!
Each box will contain 3 Autograph Cards with over 40 Autograph signers including:
Alice Evans (Eloise Hawking)

Mark Pellegrino (Jacob)

Titus Welliver (Man In Black)

Alan Dale (Charles Widmore)

Evan Handler (Dave)

Doug Hutchison (Horace)

Jon Gries (Roger Linus)

Tania Raymonde (Alex)

Patrick Fischler (Phil)

William Sanderson (Oldham)

Eric Lange (Stuart)

William Mapother (Ethan)

and many more!
Michelle Rodriguez (Ana Lucia)

Yunjin Kim (Sun)

Terry O'Quinn (Locke)

Michael Emerson (Ben Linus)

Henry Ian Cusick (Desmond)

Ken Leung (Miles)

Nestor Carbonell (Richard)

John Terry (Christian Shephard)

Sonya Walger (Penny Widmore)

Ian Somerhalder (Boone)

Mira Furlan (Rousseau)

Kiele Sanchez (Nikki)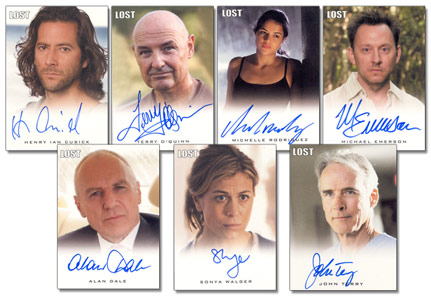 Each case will come with an autograph card signed by Kim Dickens as Cassidy Phillips. For every 3-cases pre-ordered, customers will receivean autograph card signed by Harold Perrineau (Michael).For every 6-cases pre-ordered, customers will receive an exclusive costume relic card with material worn by Evangeline Lilly.