---
Farscape Season Three Trading Cards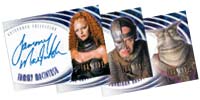 Farscape returns with three times as much excitement, with 1 autograph and 1 sketchaFEX™ card inevery box of Farscape Season Three Trading Cards! Autograph cards from Paul Goddard (Stark),Tammy MacIntosh (Jool), Jonathan Hardy (Voice of Rygel), Matt Newton (Jothee) and more!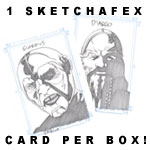 The 72-card base set will chronicle the episodic adventures of JohnCrichton and the rest of the show's cast of characters. As in the firsttwo series, there will be 3 cards per episode in the base set, covering all22 episodes. In addition to the autograph cards and sketchaFEX cards,Rittenhouse will continue with the fan favorite bonus levels,including an exhaustive, 22-card "Behind-the-Scenes" bonus set penned byDavid Kemper (who promises lots of previously untold and funny anecdotesfrom each episose), a 22-card "The Quotable Farscape" bonus set!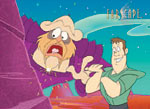 New for this series will be the "Revenging Angel Animation Cels". This 18-card chase set printed on plasticwill feature some of the great cartoon animation that was done for the episode "Revenging Angel".Fans can look forward to seeing some of their favorite characters like John Crichton, D'Argo and Scorpiusin animated cartoon style!
JUST ADDED - "From The Archives" Costume Card!


Because fans have demanded it, we have added two costume cards to the Season 3 set. The first is ofthe "Mambo" shirt worn by the neural clone of Scorpius known as Harvey in the episode "Crackers Don't Matter".Below are some images of the front and back of the shirt. The other costume is from Xhalax Sun.Insertion rates of the costume cards have not yetbeen determined.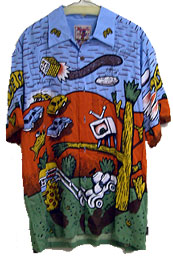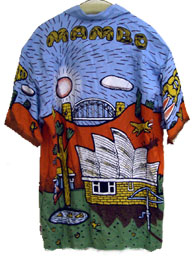 Each box of Farscape Season Three will contain 40 packs with a suggestedretail price of $2.00 per pack and $80.00 per box. Each pack willcontain 9 cards.
The will also be a custom designed collector's album which will retailfor $39.99, and contain an exclusive autograph card fromJonathan Hardy (Voice of Rygel).