Following up on 2007's and 2008's
SOLD-OUT
"Star Trek: The Original Series 40th Anniversary trading card" sets, comes
2009 Star Trek: The Original Series
featuring all of the same unique designs and card-stock from our previous set, but focusing on the ground-breaking second third of the original series of Star Trek.
Each box of this set will feature
3 Autograph Cards
in the fanfavorite classic design. Signers for this commemorative set include: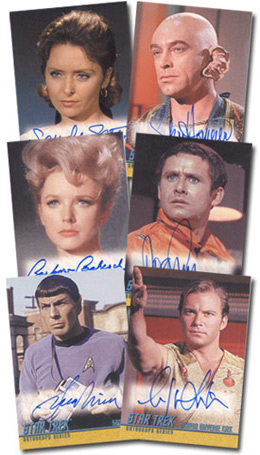 • William Shatner (Mirror Kirk)
• Leonard Nimoy (Spock)
• George Takei (Sulu in "The Naked Time")
• Sabrina Scharf (Miramanee in "The Paradise Syndrome")
• Skip Homeier (Dr. Sevrin in "The Way To Eden")
• Sheila Leighton (Luma in "Spock's Brain")
• Roger Perry (Captain Christopher in "Tomorrow Is Yesterday")
• Sandra Smith (Janice Lester in "Turnabout Intruder")
• Shirley Bonne (Ruth in "Shore Leave")
• David Frankham (Larry Marvick in "Is There In Truth No Beauty?")
• Lezlie Dalton (Drea in "By Any Other Name")
• Barbara Babcock (Mea 3 in "A Taste of Armageddon")
• Elinor Donahue (Nancy Hedford in "Metamorphosis")
• William Wintersole (Abrom in "Patterns of Force")
• Susanne Wasson (Lethe in "Dagger of the Mind")
• Rex Holman (Morgan Earp in "Spectre of the Gun")
• many other first-time Star Trek: Original Series autograph card signers!
Rounding out the chase cards are several exciting sets including :
18-card Tribute set
18-card Portraits set
9-card TOS In Motion (lenticular) set
For every three cases pre-ordered of
2009 Star Trek: The Original Series Trading Cards
you will receive an Exclusive Autograph/Costume Card signed by Walter Koenig as Chekov. For every six cases pre-ordered you will receive an Exclusive Dual Autograph Card Signed by William Shatner (Captain Kirk) and Nichelle Nichols (Uhura) in "Plato's Stepchildren"!
Fans and collectors will also be able to store their collection in a custom designed collector's album which contains an exclusive promo card.