Non-Sport > X-Men > X-Men 3: The Last Stand Case [12]
X-Men 3: The Last Stand Movie Trading Cards Case [12 boxes]
This item is not currently available.
Each case contains 12 boxes. Each box contains 40 packs. Each pack contains 5 cards.
| | |
| --- | --- |
| Cards/Pack | 5 |
| Packs/Box | 40 |
| Boxes/Case: | 12 |
| Manufacturer | Rittenhouse Archives |
| Weight | 15.32 lbs. |
Each X-Men 3 : The Last Stand sealed case contains 12 boxes. Each box contains 40 packs with 5 cards per pack. Special insert sets include Art & Images of X-Men, Casting Call, Wolverine In Action, "Take A Stand," Hand Drawn Sketch Cards, and Autograph Cards. Autograph signers include Patrick Stewart (Professor X), Kelsey Grammar (Beast), Anna Paquin (Rogue), Daniel Cudmore (Colossus), Vinnie Jones (Juggernaut), Bill Duke (Bolivar Trask), Cameron Bright (Leech), Aaron Stanford (Pyro), Shawn Ashmore (Iceman), Dania Ramirez (Callisto) and more! Each case also includes a Brett Ratner (Director) autograph card!
---

A cure for "mutancy," the resurrection of a lost comrade, and the escalating tensions between mutants and humans threaten to trigger the war to end all wars.
X-Men: The Last Stand Movie Trading Cards Each box in this series contains ONE AUTOGRAPH*card from the starring cast. Signers include: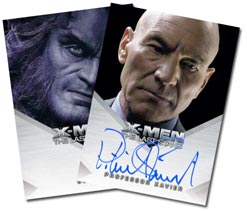 Patrick Stewart as Professor Charles Xavier
Kelsey Grammer as Dr. Hank McCoy/Beast
Anna Paquin as Marie D'Ancanto/Rogue
Daniel Cudmore as Peter Rasputin/Colossus
Vinnie Jones as Cain Marko/Juggernaut
Dania Ramirez as Callisto
Bill Duke as Bolivar Trask
Cameron Bright as Leech
Shawn Ashmore as Bobby Drake/Iceman
Aaron Stanford as John Allerdyce/Pyro
Brett Ratner (Director) - Case Topper
Stan Lee
The number of chase subsets include:
9 Wolverine in Action (1:13 packs)
16 Casting Call (1:20 packs)
9 Art & Images (1:40 packs)
6 Take a Stand (1:80 packs)
Hand-Drawn Sketch Cards (Odds TBD)
"Since the dawn of existence, there have always been moments when the course of history shifted. Such a turning point is upon us now. The conflict between the better and worst angels of our very nature. Whose outcome will change our world so greatly...there will be no going back. I do not know if victory is possible. I only know that great sacrifice will be required. And because the fate of many will depend on a few, we must make the last stand." - Charles Xavier
Free shipping for US orders of $195 or more.

---
$9.50 flat rate shipping for orders less than $195.

(lower 48 US states only)
---

Outside of the US?

Our shopping cart will automatically calculate shipping options for you.
---

---
---